Bowen Technique at New Body Barn, Devizes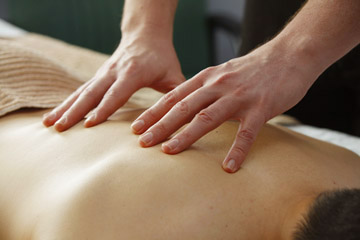 Complete body treatments for pain relief, rebalance and rehabilitation.
The Bowen Technique is a hands-on therapy that is applied using very gentle pressure. Precise stress loading and trigger points of the body are worked over which stimulate the release and rebalance of tight and painful muscles and soft tissue. This releasing of the restricted areas allows the body to return to postural alignment.
The average number of treatments people have is three to four. There are always exceptions to any rule, and some people will need further or even on-going treatment.
Lower back pain
Bowen works well with lower back pain. Painful and restricted shoulders, neck pain, respiratory conditions and headache patterns also respond well to treatment. Bowen is being widely used for sports injuries as well, with rugby clubs and premiership football clubs showing interest. Not only do sportsmen report fewer injuries when treated regularly but they also notice enhanced performance.
Treatments last between 45 minutes to an hour. Most moves can be performed through light clothing.
Bowen Technique is available at New Body Barn, Devizes in the Vale of Pewsey.
New Body Barn is pleased to offer the services of Oliver Paxton, a fully qualified and experienced practitioner of the Bowen Technique.
Read more about Oliver here
Bowen Technique is conducted in New Body Barn, Devizes Treatment Room which is also available for hire.