Holistic treaments at New Body Barn, Devizes
Crystal therapy
Crystal therapy is a complementary therepay that uses crystals and their natural healing energy. Everything in life has a vibration including ourselves. Crystals have their own frequencies and when used in our energy fields can help to bring us back into balance. This treatment lasts 30 minutes. This treatment can be combined with a 30 Minute Hot Stone Back Massage which lasts 60 minutes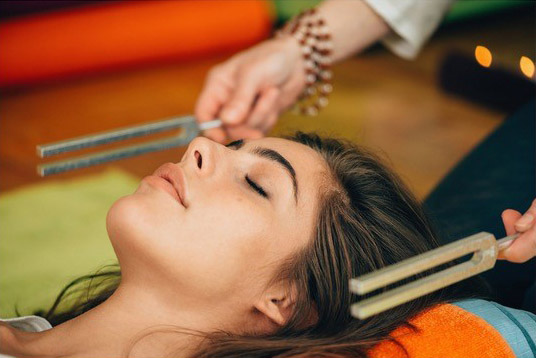 Crystal Sound Bath
A Crystal Sound Bath will massage and bathe your in the wonderful sounds of the Crystal Harp and Crystal Singing Bowls bringing you back into equilibrium and giving a feeling of peace and calm. Crysals can also be placed on the body during this treatment. This treatment lasts 30 minutes. This treatment can be combined with a 30 Minute Hot Stone Back Massage which lasts 60 minutes
Tuning Fork/Binaural Beats Therapy
A Tuning Forks sessions will use specific tones that will harmonies with areas of your body that our not in balance and to bring them back into ailigment and equilibrium. Depending on your needs Binaural Beats can also be used during your session to target specific problems for example anxiety and sleep disorders. This treatment lasts 30 minutes.
Card Readings
Card Readings are for those looking for guidance in these uncertain times, and for those of you whoare feeling unsure about changes in your life. My Card Readings are designed to offer you a roadmap and to point you in the right direction for your desired outcome. The readings last 30 minutes.
Holistic treaments are available at New Body Barn, Devizes in the Vale of Pewsey.
New Body Barn is pleased to offer the services of Lorraine Petty, an experienced Holistic treaments therapist.